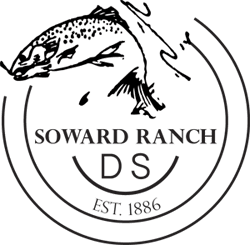 Soward Ranch was homesteaded in 1886 -- before Creede was even a town, and is still owned and operated by the original family! The property was originally run as a cattle ranch, and then a commercial fishery in the early part of the century. In the early 1930's, the family began building and renting cabins to meet demand for recreational fishing in the area.
Soward Ranch is a fisherman's paradise! The property is located 15 miles southwest of Creede in the heart of the San Juan Mountains. It borders national forest on two sides and encompasses five stocked lakes and several miles of three major tributary creeks of the Rio Grande.
Our 10 cabins (two of which are luxury cabins built in recent years), are spread throughout the ranch and allow for privacy and solitude in the magnificent outdoors, much like what the original pioneering family experienced!